YOUR HEATING AND COOLING SYSTEM SHOULD MAKE YOU COMFORTABLE.
Allow Us to Take Worry-Free to a Whole-New Level.
WITH THE ADVANTAGE PROGRAM, BEING COMFORTABLE ALSO MEANS BEING WORRY-FREE.
Everyone needs a heating and cooling system. But thanks to the Advantage Program, that doesn't mean you have to stress over it. The Advantage Program relieves you from the burden of unplanned repairs and ongoing maintenance. And when it's time to replace your home comfort system for the latest model, we'll eliminate hefty down payments, seasonal maintenance, and repair costs.* All you pay is a monthly service fee.
JUST COMFORT AND PEACE OF MIND.
Keeping your family comfortable has never been so easy.
One affordable monthly service fee covers installation, service and maintenance. Period.
No down payment at all.
Monthly service fee never increases.
Does not affect your debt-to-income ratio.
Fully transferable if you sell your home.
Emergency? Don't worry—it's covered.
THE ADVANTAGE PROGRAM COMPARED TO FINANCING OR OWNERSHIP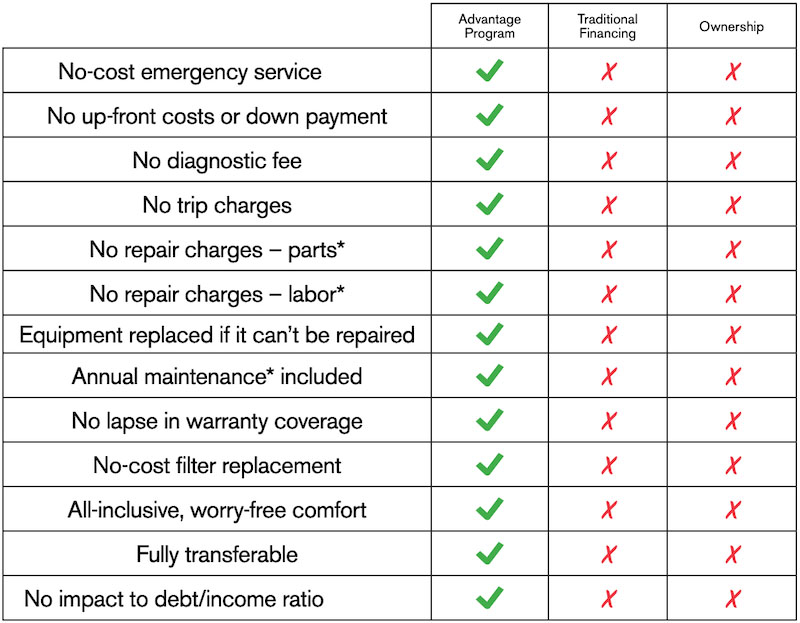 So head over to Advantage Alliance Program and let us help keep your heating & cooling system in tip top shape!