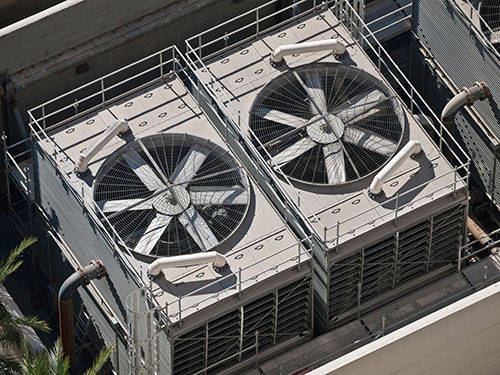 As a business owner in Rowlett, TX, you need to make sure that your commercial AC is powerful enough to keep your customers comfortable during our long, hot summers. Our HVAC technicians at Ken Parker Service, Inc. know that the demands of a commercial air conditioning system are quite different from the demands of a residential AC. Regardless of whether you need repair, maintenance, or installation service, we are the team to call.
Commercial Air Conditioning in Rowlett
Your commercial AC system will inevitably be more complicated to run than a residential system. For example, the customer area of your meat market has very different cooling needs from the cold storage chamber or even the offices in the back of the building.
Other differences between residential and commercial units are:
Location
Size
Installation
Maintenance
The location of the AC system that serves your business is different from the location of a residential system. In a residential system, the condenser is usually behind the house. In a commercial system, however, condenser units are most often found on the roof and are much larger.
The large size of commercial systems makes them noisier to operate, which is another reason they're found on the roof. Being placed on the roof does not distract your workers with noise and makes servicing and repairing the system easier for both HVAC professionals and your employees.
Components such as fans, blowers, evaporators, dampers, and thermostats are also different when it comes to commercial and residential air conditioners. Because commercial systems are so large, they need multiple pipes and pans that take away condensation. A residential system usually has just one drainage pipe and one pan found outside.
Installation of commercial systems is also different because, unlike residential units, they are built as modules. This allows them to be upgraded, with parts added or subtracted depending on the needs of your building. Residential systems are single units, and they can't be modified in this way.
Servicing a commercial system is also different from servicing the system that cools down your home. Because of their complexity, size, and location, repairing, maintaining, and installing a commercial air conditioning system requires the expertise of experienced commercial HVAC professionals.
Rowlett's Superior Commercial AC Team

Ken Parker Service, Inc. has been proudly serving our commercial customers in Rowlett and the surrounding area since 1977. Our technicians are NATE certified, and we maintain status as a Lennox Premier Dealer. We've even been the recipient of the Dave Lennox Award. Our team is available to work on all types of commercial buildings in Rowlett and the surrounding area. This includes hotels, retail businesses, and restaurants. Our shop is conveniently located on State Highway 34 in Greenville, and we're ready to serve you today.
If your commercial air conditioner needs servicing, repair, or installation, don't hesitate to call Ken Parker Service, Inc. to set up an appointment. We also offer excellent
residential AC services
in Rowlett, TX!