Expert Royse City Heating Maintenance

Many residents of Royse City, TX, turn to Ken Parker Service, Inc. when they need heating maintenance service, and you should too. We're experts in the HVAC industry. Our staff can tune-up furnaces, heat pumps, air handlers, mini-splits and other units regardless of their make or model. You'll love how we combine expertise with warm, friendly customer care. We've been performing conscientious and thorough work on the heating systems of Greater Dallas residents for more than 40 years.
We're proud that our company:

Is a family-owned and -operated business
Maintains a staff of NATE-certified technicians
Has been designated a Dave Lennox Premier Dealer
Belongs to the Air Conditioning Contractors of America
When you work with us, you can have confidence in our integrity and service. We're properly trained and licensed for everything we do. Besides performing HVAC work, our company has always taken an active role in the community. We furnish excellent results for its residents and support worthwhile local causes and organizations.
Meticulous Royse City Heating Tune-Ups
Heating tune-ups are recommended for any heating system you might own in Royse City. That even includes newer systems. The reason is that every system develops problems over time. Though these usually start out small, they can grow and compromise performance.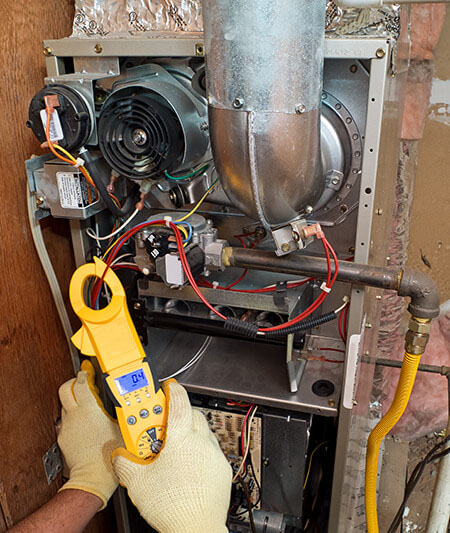 Let our factory-trained technicians maintain your unit on a regular basis. We offer comprehensive maintenance plans that cover every aspect of heating equipment. That includes the thermostat, internal components and ductwork.
For example, our team can:

Calibrate the thermostat
Check for loose wiring
Check system controls
Clean the blower
Replace air filters
A properly calibrated thermostat will accurately read the indoor temperature and prevent the system from operating inappropriately. Our Royse City heating tune-ups cover the lubrication of all moving parts. This will reduce friction and wear. We'll also inspect your furnace for mechanical problems and check all lines for leaks.
Heating Tune-Ups Save Owners Money
One benefit of heating maintenance is that a Royse City customer can extend the life of their equipment. A well-maintained system runs smoothly, and that reduces the energy bills. Since it won't break down as often, you won't be stuck paying for costly repairs. You may even notice an improvement in the indoor air quality. Lastly, tune-ups will keep any manufacturer's warranties valid.
Ken Parker Service, Inc. has been serving the people of Royse City since 1977. We're a proud provider of heating maintenance, repair and installation services. If it's not heating you need, we also offer routine AC maintenance. Call us today for any HVAC assignment, and we'll set you up for an appointment in our flexible schedule.