At Ken Parker Service, Inc., we want to be the IAQ service provider you trust with the details of any type of job in Fate, TX. Indoor air often ends up being two to fives times as polluted as the outdoor air surrounding a home. This is due to indoor sources of pollution causing a buildup in contaminants that aren't being flushed out effectively. Poor indoor air quality often occurs in homes that are built to be highly energy efficient and are nearly airtight.

Cooking, cleaning supplies, pets, paints, and furniture can all contribute to dirty air in your home. Sneezing, coughing, and other types of respiratory distress have all been linked with poor indoor air quality. Long-term exposure to certain types of contaminants can cause heart and lung disease. If you suspect that there's an air quality issue in your home, you'll want to get it checked out by a professional as soon as possible.
IAQ Service Options in Fate
Our experts can test the air in your home and help you understand the types of contaminants that are circulating in your space. They can offer sound advice about the best type of air cleaning system for your needs. You can choose between having an air purifier or scrubber installed or upgrading the filters in your furnace or air conditioner. You can also get a UV light installed in the ductwork of your home.
There are many different types of indoor air pollutants.

Particulates
Chemical vapors
Mold spores
Bacteria and viruses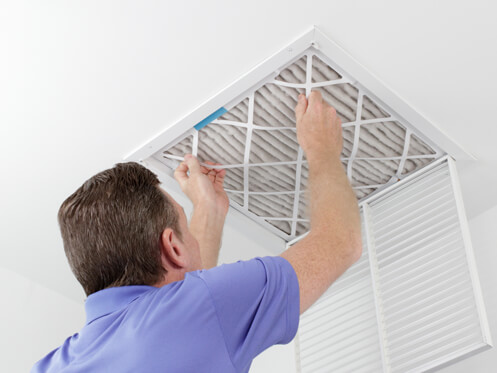 Trusted IAQ Service Providers

The technicians from Ken Parker Service, Inc. are highly experienced and ready to give every job in Fate their full attention. Since 1977, our locally owned and operated company has been offering exceptional services. We're a Lennox Premier Dealer, and our technicians are ready to work on all makes and models of air cleaning systems. With our skills and experience, we can serve the needs of both residential and commercial customers. We're fully licensed, bonded, and insured, and the best interests of our customers are always kept in mind.
Our technicians highly experienced and we'll respond to all service requests promptly. You can rely on us to arrive at our appointments punctually. We'll be driving company vehicles, and we'll have all of the tools and parts for the job.
Contact the team from Ken Parker Service, Inc. today to learn more about getting an air cleaning system installed in your Fate home. We also offer top-quality
furnace
and
air conditioning
services in Fate, TX!