What to Expect During Furnace Maintenance
September 20, 2021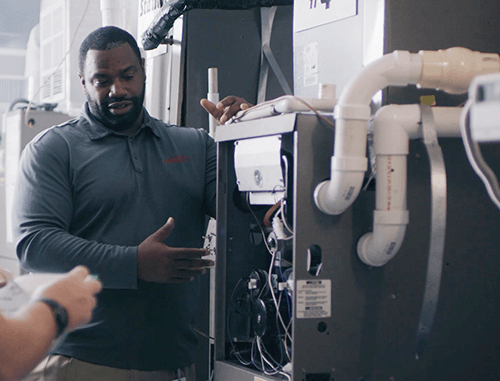 As the colder seasons approach in North Central Texas, you may wonder if it's a good time for furnace maintenance. The answer is yes, especially if you haven't had it since the spring. Now that the fall is here, you want to make sure your furnace is running efficiently and not hindered by the wear and tear of last winter.
Why Furnace Maintenance Is Important
As your furnace ages, it will begin to need more upkeep than a newer one. It would be unfortunate if your furnace stops working in the middle of the winter because of lack of attention. Unexpected repairs in the winter are inconvenient for both you and your wallet. Also, the signs that indicate a system will fail start early, and a trained technician will be able to notice those signs and assist you in the process of giving your furnace a longer lifespan.
In addition, maintenance will increase the likelihood that your furnace is running efficiently. When your furnace is heating your home at a rate proportionate to how much energy you're using, no money is wasted heating your home. You can rest assured that your furnace will perform to the best of its ability.
Another reason that maintenance is absolutely necessary is that many warranty agreements require your furnace have regular maintenance. In these instances, keeping up with your tune-ups is the only way to ensure your furnace is still covered.
Furnace Maintenance
When a trained technician does maintenance on your furnace, they will do a few things to ensure it is in great shape. One of the things they will do is check the electrical components of your furnace. That includes examining the thermostat and then calibrating it if necessary, as well as testing and reviewing the safety controls of the system. They will also check electrical connections. If they find an issue, they will replace any damaged wires and tighten any loose connections. At some point in the tune-up, they will also check the burner and flame sensor, which is an important safety element.
Secondly, your technician will lubricate all of the moving parts in your heating system. This part is essential for your furnace's energy efficiency and the decreased likelihood of repairs needed. The moving parts in your system need to glide seamlessly. One malfunction part will likely cause a chain reaction of malfunction that leads to more issues.
Another task your technician will perform is removing your air filter and checking it for damage. If there are signs of wear on your filter, he will replace it; however, he will return it if it's okay. He will also inspect the air intake grilles and vent system and rid it of any blockage.
There are several other steps your technician will go through to ensure that your system is running as efficiently as possible.
Inspecting and removing any debris from the blower
Examine heat exchanger for damage
Checking the belts
Test blower motor and its amp draw
Homeowners with a gas or oil furnace will require a few extra steps in their furnace maintenance. Your technician will test your burner as well as the gas pressure. They will also examine your fuel lines to ensure that there are no leaks, which would endanger the people in your home. In addition, they will perform a full inspection of the pilot or electronic ignition.
Your furnace should have maintenance once a year. Failing to do so could potentially cause respiratory issues for the people in your home due to poor air quality. The best time for your furnace to receive maintenance is before the colder months come; This gives your furnace a chance to recover from long months of inaction and start with its best foot forward.
Your Home Experts
Located right off Highway 34, only a stone's throw from Majors Airport, [compay_name] is proud to bring 40 years of top-tier service to the community of Greenville and surrounding areas. Our well-trained staff is here to assist you in your needs of heating, cooling, and indoor air quality. We are NATE-certified and factory-trained in order best to serve you in your home comfort or commercial project. Our competent team will do everything in their power to be a knowledgeable guide in the affordability of our products and services. We handle all of our clients with kind professionalism, and we treat your home with the same care we would give our own. So, if you feel that it's time for your furnace to have maintenance, call us today.