Health's Team of Heater Technicians

Ken Parker Service, Inc. is a reputable heating company serving the Heath, TX, area. We're a Lennox Premier Dealer that has NATE-certified HVAC technicians who can travel throughout Heath. Since 1977, we've been providing quality heating repair, installation and maintenance. Our company is a member of the ACCA and participates in local charities and youth sports organizations. Many people think of Texas as a hot state, but Heath drops down below 40 degrees in the winter. You need a quality heating system to get through the cold winters.
Reasons to rely on us:
Accurate repairs
High-end heating systems available
Friendly technicians
We give back to the community
Financing options on approved credit for installation
Providing Heating Repairs
Ken Parker Service, Inc. provides affordable heating repairs in the Heath area. After being a family-owned business for over 40 years, there isn't a heating problem we haven't seen. We can quickly diagnose and repair any brand of heating system. Potential heating problems include weak airflow, leaks, strange noises and bad smells.
If you smell gas from the furnace at your Heath property, turn it off and contact our heating company. Gas leaks are dangerous. If you smell a musty odor, then you may have mold growing in the heating system. Mold is harmful to your health, so you should have a repair company remove it as soon as possible. Ken Parker Service, Inc. solves problems small and large for Heath residents.
Heating Installation Team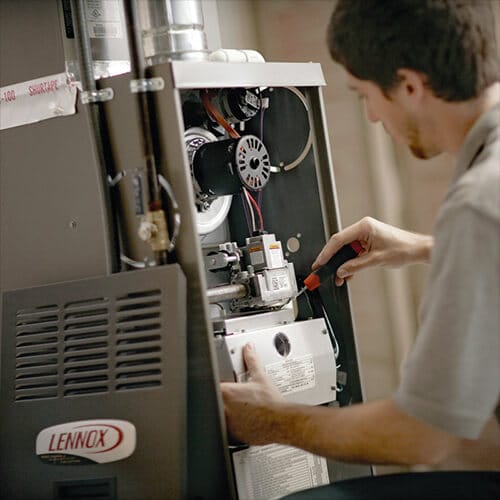 Our HVAC technicians in Heath can install furnaces, heat pumps, central heating systems, garage heaters and solar-ready heating products. What type of heater is best for your home largely depends on the characteristics of your property. After evaluating your property in Heath, our HVAC technicians will let you know what your options are. We encourage you to ask questions and be involved in the installation process and choosing your next heater. We'll also explain how the new system works, so you feel confident in its functioning.
Benefits of a new heating system:
Improved energy efficiency
Lower heating bills
Better indoor air quality
Decreased likelihood of expensive breakdowns
Your Source for Heating Maintenance
A heating system will last 15-20 years if it receives professional maintenance on an annual basis. Yearly maintenance also prevents sticker shock from expensive heating bills. Professional maintenance involves inspecting your heater for problems and cleaning the internal components. Ken Parker Service, Inc. has excellent maintenance agreements that help Heath residents save money on maintaining their heaters. Remember to also change your air filter and vacuum the vents regularly. These tasks assist in keeping your heating system operating optimally.
Contact us to learn more about our heating services and schedule an appointment. Not looking for heating services? We also provide highly rated cooling services for Heath and the surrounding areas!